Mike Chappelear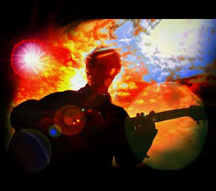 When Push Comes to Shove- 2005
Review by Tiny Elvis

Mike Chappelear, singer songwriter from Kentucky offers up enjoyable Folk Alternative album. He come right at ya with the first track "Doo" that is full of all kinds of ear candy and hooks, from the harmonica to the banjo to hand claps. It's a body mover and well designed giving off a scent of Americana. Track 4's "When Push Comes to Shove" May be the glimmering star off this album. A slow tempo track packed with emotion and fleshed out with some polished guitar chops and a refreshing cello. You hear it twice and then it's stuck in your head. Heart pounding drums are found on the spiritual "Go with God" that definitely has a U2 feel to it. This track bleeds with vigor and movement. The more you listen to this album and as the track progress you start to identify with the Mike and really soak in his lyrics and songwriting. This becomes evident with "What is this Moment" that has a Dylan taste to it that eventually breaks into a sweet layered chorus. "Pool of my Tears" I definitely get the feel of Joel Plaskett with his vocal range and delivery. "Cruel Weather" at track 10 is the almost forgotten effort on this album that rivals almost all the other tracks on it with its beauty. Mike does deliver quite the vocal range on this album and Is able to create enough diversity to capture your interest and yet maintains the framework of what is a complete album. Only a couple songs didn't settle wellwith me on this album and that doesn't take away from its over all success. This is a well-done Folk Alternative album that dabbles in all genres with brilliant use of each respective instrument in the creation of what is a near perfect album minus one or two tracks.
Recommended if you like: Ryan Adams, U2, Bob Dylan, Joel Plaskett
Jason Bajada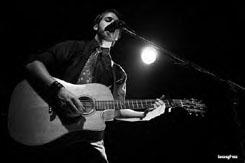 Puer Dolor- 2003
Review by Tiny Elvis

Band Members: Jason Bajada, Fred Bouchard, Peter X, Adam Blinick
Our Neighbors to the north offer up another quality album this time from Jason Bajada from Montreal Quebec. Immediately the hairs in your ears are tickled with his jingling guitar work while a taught rubber band of lyrics snaps back at you on "Bad People Missing". My favorite line on this track is "you like all the music I care for and know all the movies I live for…" Pretty sweet if you ask me and that has always been my kind of girl too. Track 3's "Metaphysical Flash" is a bouncy upbeat little number that would make a shelf of bobble heads shake in acceptance. Now track 5 "After Hour Space" is blanketed in that "rumble in the jungle" known as the stand up bass. What a sound and flavor that adds to this number. This track has that Jeff Tweedy feel to it and has all the ups and downs to evoke a memorizing command of your attention. Track 6 might be the Cut stone that catches the moonlight the best on this album. The combination of the original sounding verse with a clever rhythm that allows for a powerful tiny break of emphasis. The Layered Guy/Girl lyrics has always been my favorite secrete weapon and the Cello could not be anymore perfect. A masterful song that nibbles on the crumbs of perfection. "Summer Heart Attack" has a good programmed drum track that sounds extraordinary beneath Jason's lyrics and then It bleeds into real drums and bass. Very well done conversion and use of the digital and the more conventional instruments. Oh and it's a song that sticks in your head too, Big Time! This album has the feel of a freshly polished old car. It's Lo-Fi enough to keep the integrity and character intact yet the recording is shiny enough to see your smiling reflection staring back at you in the polish as you listen.
Recommended if you like: Elliott Smith, Evan Dando, Elvis Costello, Jeff Tweedy
Shoot The Moon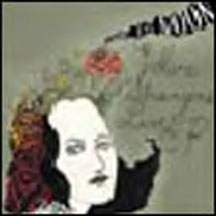 Where Strangers Live EP- 2005
Review by Tiny Elvis

Daniel Schachter (guitar), Nadia Bashalani (vocals), Louie-Phillipe Nagy (keyboard / Trumpet), James Rosen (bass / Drums / guitar), Tara Martin (drums / guitar), Julie Raymond (viola)
Montreal Quebec's Shoot the Moon offer up what could be described as Nu-Jazz or experimental ambience. To get the taste of what I am describing I would recommend the first listening to track 1 "Purple B". Like a meandering staircase the over all mood and electricity of this song delves higher and higher taking you along with them. Melancholy to bliss in one epic journey. This track reminds me so much of Sian Spheric with their brilliance in raising the level of the song progressively up to one precipice pivot only to lay you back down gently into the next track. Track one into two's "Concubine's Lament" is virtually seamless. Nadia Bashalani does offer her soul with her vocals that are the torch that leads the listener to safe harbors. "Tales from the Sea is also quite fun yet it is almost a U-turn from the first two tracks. This of course is not entirely a bad thing and in this case I find "Tales from the Sea" almost refreshing like when I listen to Wilco. The Burlesque feel comes to you when you gobble up "Where Strangers Live" which has that Portishead flavor without the big bass beats and electronic undertones. I believe I hear that Stand up Bass again in this one and that is such a tasty sound that banters your ears along with Nadia's vocals. I look forward to hearing a full length from these cats so I have a better understanding of whom they are where they are focusing. I do like what I have heard thus far for the most part from the appetizers, and patiently await the main entrée.
Recommended if you like: Portishead, Sian Spheric, Fiona Apple, Violet Indiana, Martina Topley-Bird.
Krista Hartman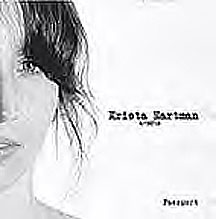 "Passport"- Riverdale Records- 2005
Review by Tiny Elvis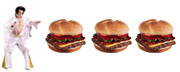 Band Members: Krista Hartman (Vocals, Guitars, Keys), Lane Arndt (Bass, Guitars), Dave Aide (keys), Mario Laquintana (Drums).
Edmonton Alberta's Krista Hartman offers what could be described as that old school folk feel with a modern day twist. I have that overwhelming impression of Nancy Sinatra and Lee Hazlewood's folk album of the 60's if you have ever heard that you would know what I mean. Not saying that Krista is in the exact same mold yet has that feel. Track 1's "On the Train" is a wonderful lyrical wake up call to better times and those times of innocence. Track 4 "Just one of those things" is a charming ballad whereas Krista's voice cozies up to you as you take in the track. On Tracks 2 "Dusty Road" and 6's "Southern Comfort Junkie" there is that smoky shadowy elegance that I feel when I hear Sinatra and Hazlewood. They are song structures and singing styles that are full of atmosphere. Track 10's "Til the Air" is the shining star on this album. The Bluesy Folk delivery is a pleasurable audible experience. Krista's Story telling style is classic in the sense of 60's folk and folk rock tunes. She is able to touch that era and yet twist and turn the songs into a friendly modern feel while illuminating her life experiences. Those picturesque lyrics are the brush strokes that the listener follows to see the picture painted before their ears.
Recommended if you like: Lee Hazlewood, Nancy Sinatra, Dar Williams, Cat Power
Scott Kirkpatrick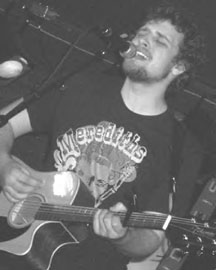 Live at the Anti-Folk Fest- Limited EP- 2005
Review By Tiny Elvis

Scott Kirkpatrick who resides in Louisville Kentucky sent us a limited edition live album of one of his solo shows. From beginning to end you get an electric feeling of what Scott is all about. Each song flows nicely from one to next in a 6 song set that I would have love to have seen live. Track 1 is lyrical magic with lines like "Don't let them tell you You are much too young Or that your heart is not weathered enough That the green behind your ears still shines, The world needs to find life in the greener light". He has such a consoling and uplifting voice that with acoustic in hand is what the mind needs as a break in this calm, that is before the storm of daily life. Track one "Don't Stop" and track 2 "Winter and Mary" are two great examples of this escape. Scott is a strong singer songwriter that can come through to the listener both live and on recording. I cant wait to check out a full band backing him in the near future.
Recommended if you like: Jeff Buckley, Ben Harper, Grant Lee Phillips, Mark Eitzel, Jason Yates