That Rabbit's Dynomite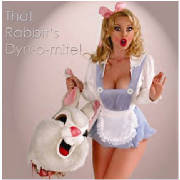 Self Titled- 2005
Review By Tiny Elvis

Band Members Zach (vocals) Justin (Lead Guitar) JC (Bass) Elliot (Rhythm Guitar) Tommy (Drums)
That Rabbit's Dyn-o-Mite hail from Atlanta with their pop-rock sound. Musically the standouts on this album are that of Tommy Novak on drums and Justin Nihiser on lead guitar. They coincide with each other making the songs complex where they need to and smooth where they don't need to be complex. In that they are able to punctuate both Zach McBrayer vocals and kick along the sly bass of Joe Astrauckas. There wasn't too much that collectively separated their songs from anything else that I have heard until I rolled through some of the later tracks that made me appreciate these cats a bit more. Track 9 "Burn the Dark" seemingly does just that. The heartfelt and honest lyrics coupled with crisp emphasizing breaks make this ballad the shining star on the album. A close second to that is track 11 "The Way She Sounds". . A whispering hot light amongst the dark via the best vocal delivery on the album. Novak's drums again are brilliant as these cats nail down that slow-to mid-to fast emo formula. Although this track is one of the few that leans this way , it still remains a refreshing change and a style that suits their talent and vocal delivery the best in my opinion. The Hidden Track 69 was also nearing that feel yet it swayed more to the indie pop side with tight pleasant bouncy chords and it remains one of the better efforts on the album. Yet another Hidden track 88 was absolutely amazing and for the first time you really appreciate how well Zach can croon. What a lovely track. The Hidden track 99 I also liked. It is an instrumental effort that is dynamic and power packed with emotion. The style of the track in itself if completely different than any of the others but it too has elegance. I really do enjoy the promise that these guys have and even though the album as a whole is a hit and a miss, I feel that the hits are far worth giving it a few more listens. You will begin to appreciate their musicianship and what is the budding of a band with endless potential once they find exactly the sound that suits them best. Oh and if that wasn't reason enough for you to pick up the album the girl on the front cover is well worth your money. Hot Damn!

Recommended if you Like: Teenage Fanclub, Matthew Good, DeathRay Davies, Gumball. Remy Zero

Troubled Hubble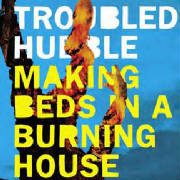 Making Beds in a Burning House- 2005- Lookout Records
Review By Tiny Elvis

Band Members Chris Otepka -- sing.guitar Josh Miller -- guitar.sing Andrew Lanthrum -- bass Nate Lanthrum -- drums
Troubled Hubble are a 4 piece from Elburn IL who offer up a favorable indie pop rock sound. "Making Beds in a Burning House" is their newest effort and first of which on Lookout records. This outing divvies up a 12 solid tracks and an hidden one that immediately strike you in a comforting way. For me it wasn't until later in the album when Troubled Hubble started to really heat up. Track 5 "To be Alive and Alone" was full of energy and sincerity that draws the listener in to the chorus. A fast developing number that hushes in the chorus nailed down this track for me. Track 7 defies the logic that sequels are never better than the first but "Ear Nose and Throat pt 2" was just that good. This a track that develops in a slow creep but builds up masterfully to a pivot and then leaves you yearning for a lot, lot more. The Gem on this album is "Floribraska". I think that it's straight up and filled of air whereas each member can shine a bit more bright. The Coupled layered lyrics are very cool and offer the power of the Halo Benders in the chorus. The 4 some also capture this vocal magic with track 10 "The Do that Build the House". "Jackpot Stampede Deluxe" is a well-constructed track with a slick lyrics and vocals well positioned around a fresh sound structure with bursts that hammer down the chorus. This comforting sound that I mention is only put over the edge with the above 4 tracks and the hidden track "Nancy". One would not be disappointed if these guys found their way in your shopping cart at your next outing to the record store. They have that pop indie rock style that is neither campy nor bubble gum but more of a straight forward style that is both radio friendly and appealing to the anti-radio entity. A sound that is a win, win for everyone.

Recommended if you like: The Dismemberment Plan, Creeper Lagoon, The Jealous Sound

Frequency Below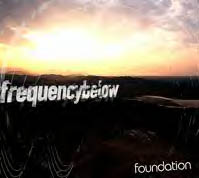 Foundation- 2005
Reviewed By Tiny Elvis

Band Members Caroline Yohanan -Vocals, Armando Perez -Guitar/Vocals, William A. Ocasio -Drums, Ryan Schoen -Bass
This is quite the talented 4-some hailing from Chicago, IL. With a laundry list of credentials and experience blanketing each member you can only imagine the sound that they create as a single entity. There are many styles and genres that are attended to on this album but they don't stray too far into obscurity. Meaning that the genres that Frequency Below tackle range from trip-hop to Bluesy to Soulful with a touch of funk. All of Which are done up quite well and deal up what is the slick Identity of the band. The structures of each song are quite complex but free moving and open to improv in concert. Yet they capture that live feel with this well recorded full length "Foundation". This Foundation is indeed structurally sound with Ryan Schoen on Bass and William A. Ocasio on Drums. They bring forth such a wonderful groove in track 6 "Chula's Dream and track 7's "Monday Morning". If they were the only shining stars amongst the band that would be enough but they have more than just that to offer. The voice and delivery of Caroline Yohanan gives me that feeling of Beth Orton (Portishead) and a bit of Fiona Apple. Her vocal range is amazing and fits nicely in the complex but open style of this band. The Guitar Work of Armando Perez is yet another perk that tickles your ears in rhythm but especially when in lead. Tracks 8 and 9 on this album are brilliant down tempo instrumentals. Track 9 "Fausto's Afternoon" presents a wondrously meandering trip hop feel. Track 10, "Sweet Like Candy" and "Fool Me Once" are the shining star's on this album. Lyrics that stick in your head coupled with those unique and powerful talents mentioned above. I believe that they are originals but there is such a familiarity when you hear them that you feel that you have heard them before. All track's on this album have that sensation that make's your body yearn to move and that in itself is difficult to obtain and present. Other tracks I thought were attention capturers' were "Lover's Lament", "Music Box", and "Shorty Rock". In the Press pack of Frequency Below they make mention that the good people of Chicago love when they do covers. Now if I am to understand that the songs that they have given me to review are originals then It would be a great dis-service to both the band and the listening public if they didn't play these songs. The songs in themselves and the talent that this foursome empowers are enough to make anyone pick up their heads and take note and in this case dance as well. In the same their own material Is better than any cover one could demand live. If you don't have this album yet go and get it you will be very pleased to hear it on a warm summers eve.
RIYL: Fiona Apple, Beth Orton, Natalie Merchant, 10,000 Maniac's, Jesus and Mary Chain
Scale Model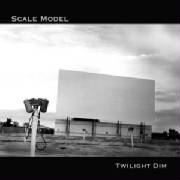 Twilight Dim- 2005
Reviewed By Tiny Elvis

Band members: Andy Rogers, Megan Rox, Dave Johnson, Neill Miller
Scale Model hail from Chicago IL delivery a more mid to up-tempo rock album with energetic highs and lows. The songs themselves do have that emo feel to them with the changes in tempo and their complexity. They are able to build the music gradually and hit with a climax quite well. Andy Rogers (Drums) is on top of his game with the drum track on "Pop Star". Both He and Joe Levora (Bass) lay down some slick rhythms throughout and keep the changes from verse to chorus and back again bright and tight. Dave Johnson also shines with some interesting lead on "Unexpected Kind" that builds quite well. Megan Rox does indeed have a great voice there is no denying that. Yet I don't know if it exactly fits or works with these guys. There are times when it does when the vocals don't seem forced and don't range out of hand. Song 3 "Something Changed" and 7 "The Fix" her vocals seem more sincere and mesh well with the music. In some other tracks they seem too operatic and off the charts in the range with a tempo behind that doesn't support that style. I hope that they can find the best way to utilize her and their talents to coincide with the music behind her without making the songs sound too similar.

Recommended if you like: Helium, Bettie Serveert
Tell River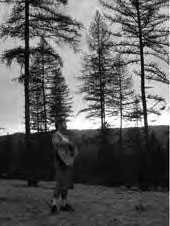 Self Titled- 2005
Reviewed By Tiny Elvis

Band members: Adam Diener, Chris Peters, Chris Schreiber and Edison

Tell River is the musical and vocal brilliance that is Adam Diener from San Francisco California. You really don't come across all that many albums that you instantly take a liking to and want to pass them along to your friends but this is one of them. I almost immediately thought of Toronto's Hayden who I consider to be one of the worlds best singer songwriters. That is a compliment of the highest regards in my eyes. It's slower structure style, along with hints of folk that is more modern, best describes what you are in store for. It's More Indie than folk that's flavored with a style of today. The album as a whole is a mostly a down tempo masterpiece chalked full of emotion and heart that the listener can only but familiarize with and embrace. The Lyrics are fresh, crisp and original. The poetic odes are coupled with subtle and fitting background sounds and drumbeats that highlight Adam's engaging guitar work. You appreciate this almost immediately with "Fairview Avenue". Track 4 "Lawn Chairs" takes on that challenge of combining two diverse tempo's in the verse and chorus and they are able to pull it off without making it sound liked a patchwork of two songs. Track 9 "Battle Scars" is one of the few up-tempo numbers and it's brilliant. With great movement and delivery it fits amongst the other great tracks so nicely. I could have done without only one track on this album, Track 5 "Dull Axe" doesn't really fit. It doesn't work in my eyes to the over all theme and it's the one song that feels forced. The list of other captivating tracks goes on with 10 "Fucked Fone", Track 3 "Level Off", and Track 7 "Friday". This 11-song album if widdled down to 10 (excluding track 5) would make this almost perfect. I recommend that you all check out exactly what I mean.

Recommended if you like: Hayden, Geoff Farina, Joel Plaskett, Van Morrison, Elliott Smith.

Weathersbee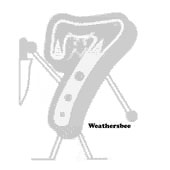 And the Scary Seven EP- 2005
Reviewed By Tiny Elvis

Band members: Elliott Mchugh- Guitar/ Vocals, Lincoln Jones- Drums, Alex Overall- Bass/ Keys
Weathersbee are a 3-piece that call LaGrange GA their hometown. They offer more of a jangle pop sound that would fit into the early to mid 90's quite well. The over all album is pretty good. Elliott McHugh does great work on guitar throughout the album. Alex Overall (Bass) and Lincoln Jones (Drums) lay down a good foundation to match the bouncy guitar style of Elliott. There are both positive and negatives through the album. I really liked track 1 "Airplane" that became more catchy the second time that I heard it. The Shining star on the album is Track 4 "Dreaming on Horizons" that threw in some layering in the chorus that is new and hooked. The album has lots of those hooks and there is nothing wrong with that but this track nails it down. "A Taste of Tuesday" was short and sweet and reminded me a bit of early Nirvana and there was a great solo that completed the track. Alex's piano chops shined on "Euclid". All in All Weathersbee offer a fun album that after a listen or two you begin to appreciate a bit more. This their first effort is a good one for what could be a promising future.

Recommended if you like: Of Montreal, Bailterspace, Olivia Tremor Control, Early Nirvana