Reflectiostack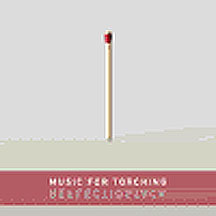 Music For Torching- 2005
Review By Tiny Elvis

Band Members: Kirsty Andrews-vocals, guitars. Fiona Stewart-violins, drum machine, keys. Scott Maynard-bass, piano
Toronto's very own Reflectiostack offer up gigantic sweeping song structures lamented with a deep bass sound, accented with haunting vocals, dressed up with the violin. Kristy Andrews vocals are like spring fresh ivy scaling the massive wall of sound this crew are able to orchestrate. Fiona Stewart's violin work is invigorating, capturing a non-verbal duet with Kristy on Track 2's "8 Months". Track 1's "Golden" harnesses a spiritual worldly feel. Scott Maynard also contributes his skills to this unique sound with his bass and piano work. Jason Clarke appears on the album with his double bass and Donald Murray adds his trumpet work on track 4's "San Diego Serenade" which is by far the brightest bulb on the album. This track is an explosion of pleasantries. Track 5 "Magic Mountain" is lyrically wonderful and full of sound with Fiona's violin and drum machine tracks. "Comfortable State of Perfection" which appears as the sixth song is a close second to "San Diego Serenade" in its over all dynamics. Over all I was quite impressed by the Reflectiostack and their conjured up imagery of sound that they churn out like soft butter. Although not every song is a gem, which in itself would be amazing there are plenty of audio adventures to be had on this albums. I recommend sitting back with the album on repeat with a fine scotch in one hand and a cigarette in the other clear your mind and soak it up.
Recommended if you like: Folk Implosion, The Cardigans, PJ Harvey, Radiohead, Mercury Rev
Evil Doers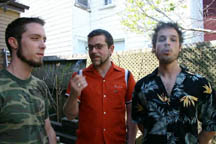 Welcome to the Show- 2005-
Review By Tiny Elvis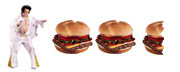 Band Members: Paul Leroux- Guitar and Vocals. Steve Barber- Bass, Organ, BG Vocals. Jason Darby- Drums BG vocals.
The EvilDoers, Also from Toronto, are a blend of hard rock and rock and roll. Those two styles create their sound that at times does have its moments. They do toss out hook after hook coupled with fine guitar work and thunderous rhythms yet the fish aren't always biting. The Album is well polished and produced with fine quality yet their dirty and gritty style might have done the listener more justice if the recording was more in their style. Don't get me wrong these cats are talented and they would probably come off stronger in a live show with what seems to be an endless streamline of energy from front man Paul LeRoux. The finest track on the album is track 3 "Amsterdam". This track seems less forced and more full of soul and the lyrics are bit more meaningful and tight. "Acid Victim" is worth a few listens as well as "Meter maid". But if all the songs were in the similar mold to the magic of "Amsterdam" these cats could have great success on their journey to musical achievement.